LPG WEEK 2023 – FOUR DATA, Intelligent energy management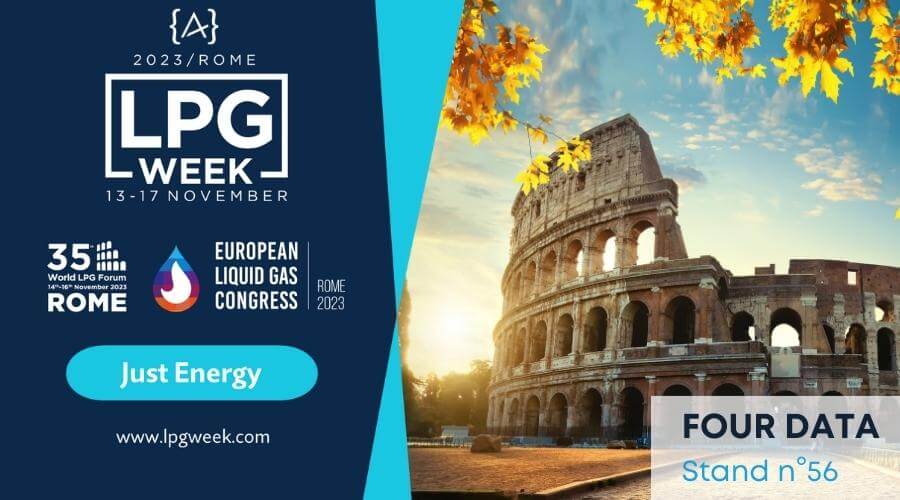 We're thrilled to announce that FOUR Data will be making a strong presence at LPG Week 2023, taking place at the Roma Convention Centre La Nuvola from November 13th to 17th. Visit us at Stand 56 to explore our cutting-edge intelligent monitoring solutions and professional alert management designed specifically for the LPG market.
FOUR DATA stand: Innovation in Action
On the FOUR Data stand, you'll have the opportunity to explore our cutting-edge solutions that are reshaping the management of energy resources, with a particular focus on the gas sector, all thanks to the power of the Internet of Things (IoT) and customised offerings. Our team of experts will be delighted to show you our latest innovations, from specialist gas sensors designed for greater efficiency to cutting-edge software solutions that facilitate seamless data management.
You'll also get an insight into our strategic acquisitions and expansion into fast-growing markets such as gas and hydrogen. These initiatives enable us not only to broaden our horizons, but also to position ourselves at the forefront of innovation in these sectors.
Our expertise is not limited to a single facet of the industry. It covers the whole spectrum, from initial design and installation to ongoing maintenance. We have invested in creating a comprehensive set of solutions tailored to the unique requirements of the gas industry.
Visit our stand to find out how FOUR Data is driving innovation and setting new standards for the gas market.
Practical information LPG WEEK 2023
Partager l'article