Pellet connected solution: Optimise your stocks!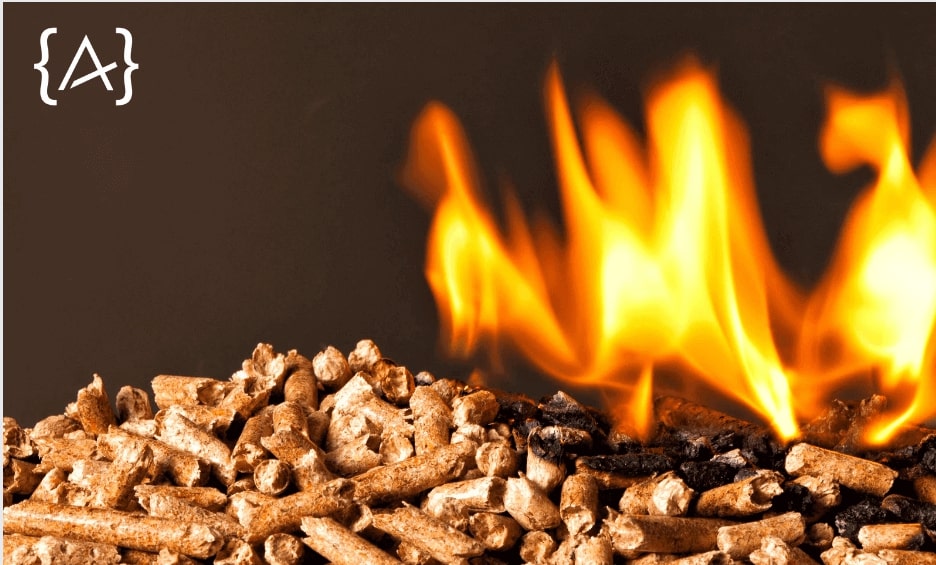 Pellet Connected Solution: Which sensors for tracking wood pellets?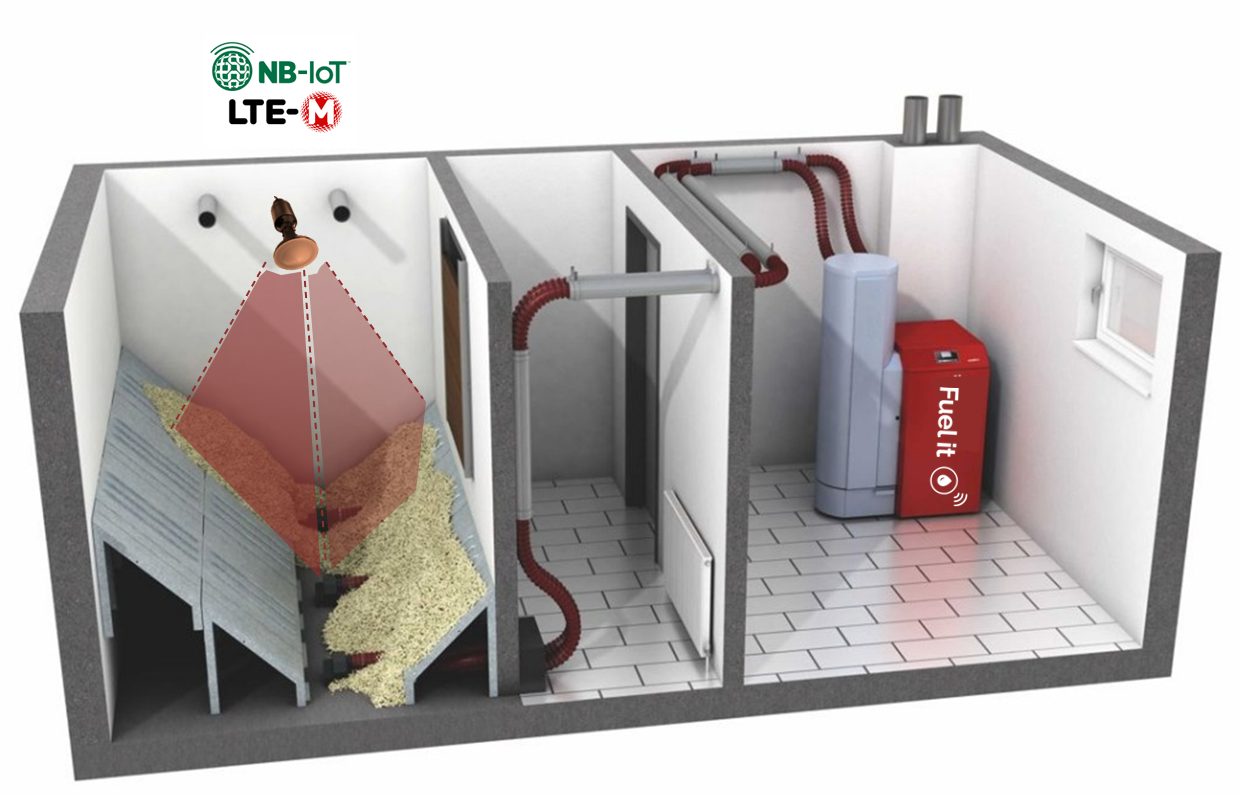 Pellet connected solution: telemetry and connected level gauge systems for pellet hoppers and silos are quite recent!
Indeed, wood pellets as a heating medium and stored in bulk have only been used for about fifteen years. The decarbonation of the means of heating, the rise in the prices of fuels (fuel oil, gas) and especially electricity maintain the growth of this market.
Thus, according to the Propellet association, it is estimated that there are more than 30,000 bulk pellet boilers installed in France!
Moreover, delivery trucks are few and far between. It is therefore essential to anticipate pellet shortages in order to supply at the right time.
That's why Fuel it's connected radar gauges & connected hopper scales are exactly what you need.
There are now two ways to store pellets in bulk:
in a small mobile silo (fabric on a frame, metal or HDPE plastic)
in a fixed hopper, usually made of wood.
Fuel it's connected pellet solution consists of a connected scale made up of 4 load cells placed under the 4 legs of the silo. It allows to have a very precise level of the remaining volume of pellets.
However, these silos are often with closed metal or fabric roofs and the installation of a radar sensor seems more complicated than a scale made up of 4 small scales. So, for fixed hoppers, the solution is a radar sensor that flashes the height of the pellet in the hopper and transforms it into a volume and then a heating time before breaking.
How does the connected pellet silo scale work?
Since the end of 2021, Fuel it has been offering a weighing measurement solution based on scales or load cells connected to the LPWAN (Sigfox & Lora) and NB-IoT / LTE-M network.
This solution then allows to accurately measure the weight of a container such as a silo or hopper of pellets and wood pellets.
The Pellet Fuel it connected solution is rather easy to install. However, it is best to proceed when the silo is rather empty. A tare is performed via the platform and gives the level in a very precise way.
This system is very much in demand by the pellet boiler installers that Fuel it works with.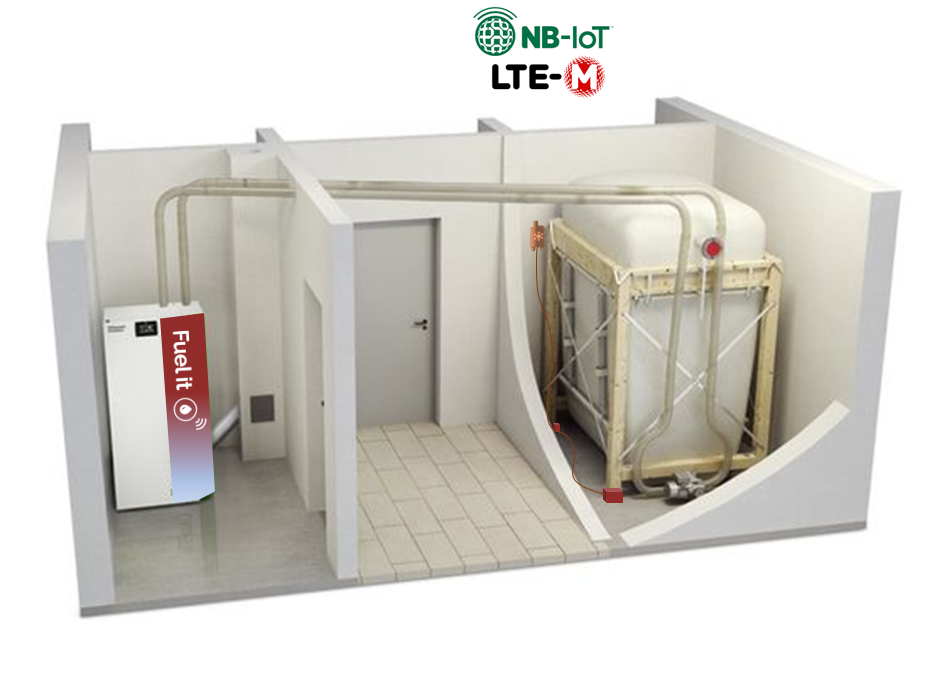 There are three reasons for this:
The first is the ease of installation of its sensor, which can be "grafted" directly onto all hoppers and silos on the market
Less than 15 minutes to install.  No drilling or special equipment required. Installation is simple and secure.
The level data is sent to the cloud via communication protocols depending on the site configuration. LPWAN networks (Sigfox & Lora) as well as NB-Iot-LTE-M-CAT1 are available. The data is sent back depending on the configuration: once or 4 times a day. The data is integrated into the monitoring interface and allows the tank levels to be viewed directly. It is also possible to set alerts according to defined thresholds (most of our customers set a threshold between 25 and 30% of the remaining pellets).
3 good reasons to add telemetry to your pellet silos!
32% logistical savings & no more pellet delivery emergencies!  Our customers claim a reduction in their logistics costs, optimised routes and an end to the need for emergency deliveries.
A modular interface! Our software is designed as a full web service with APIs and iframe bricks to retrieve level information. Alerts are directly configurable in the interface that distributors share with their customers.  We support any type of communication protocol, including the old M2M protocols in 2G/3G. You can then view data from connected load cells, Fuel it radar gauges or other brands such as Vega, Endress Hauser directly through APIs and partnership agreements.
Optimise monitoring & provide service! The temperature and humidity sensors ensure that the pellets have the right humidity to ensure better combustion.
Partager l'article